Nativity Scene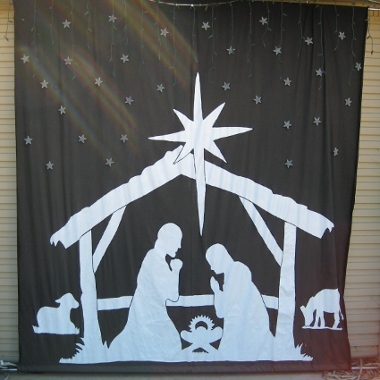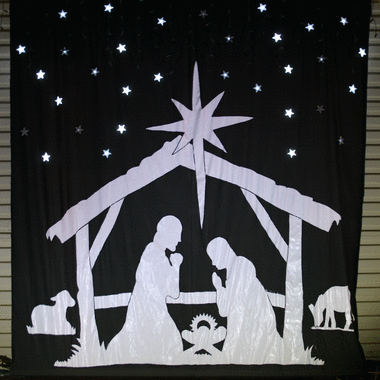 Summary:
LEDs: 34 (32 LEDs for stars and 2 CREE Spotlights)
Channels: 34
Control Boards: 2 and a bit
Voltage: 5V
We wanted to put a nativity scene in our display but some of the nicer ones were hugely expensive. We saw a wonderfully simple nativity on the web which could be made out of plywood.
In the end we used the picture of the plywood nativity but changed it slightly. Our nativity is simply a large black piece of material (drill) painted with white outdoor paint, and outlined with black paint marker. There are 32 LED stars in the sky of the nativity and we use two spotlights to light up the nativity during the lights display.
Special Thanks
We must thank Tique Bennett for helping with the sewing on the nativity and the idea of using a stabilising bar at the bottom of the material to keep it from blowing around too much.